Vedic Astrology Magazine



Highlights of July-August 2000 Issue • Vol. 4 No. 4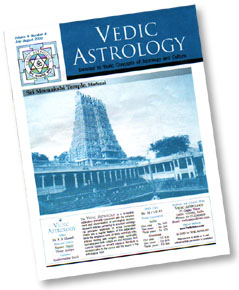 Tara Lagna Dasha
Dr. Suresh Chandra Mishra
Though a rather infrequently used dasha, this is a highly reliable dasha of Jaimini. The rules of Jaimini are slightly different from Parashara but, in the hands of the master, give profound accurate results.
Read full article ...
The Contentious Sixth House and Planetary Dispositions
Dr. K S Charak
Each house of a horoscopic chart has its own specific significance. Without it, the rest of the horoscope would remain incomplete. Dr. Charak deals with all aspects related to the sixth house in his amicable style.
Analysis of a Prashna Chart
J N Sharma
Prashna or horary astrology is an important branch of Vedic astrology. Analysis of the Prashna chart can provide dazzling results. An example of a brilliant analysis of a Prashna chart by JN Sharma is presented here with the hope that you will find it illuminating as well as intellectually stimulating.
Spectrum and Magnitude of Jyotisha
Mireille-Josephine Guezennec (Himabindu)
The process of learning Vedic astrology would help us to retrace the origin and to discover the roots of the oldest of civilisations.
Will it be Bush or Gore for the USA?
By Anshumalee Sood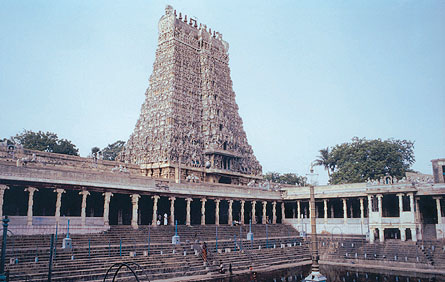 The Sri Meenakshi Temple is one of the holiest of shrines in South India. The temple is dedicated both to the goddess Meenakshi, the spouse of lord Shiva, as well as to lord Shiva (Sundareswarar). It is an exquisite example of South Indian architecture. Its enormous gopurams (or towers over the entrances) are embelished from top to bottom with multicolored images of gods, goddesses, animals and mythical figures. Over the centuries, this temple has been the centre of Tamil culture, literature, art, music and dance.