Vedic Astrology Magazine


Highlights of May-June 2000 Issue • Vol. 4 No. 3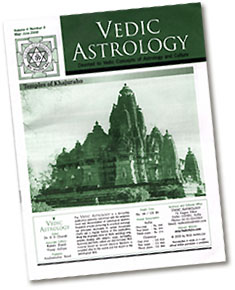 The Genesis
R. Ramakrishnan
Vedic Astrology today needs to be pulled out of the halo of superstition and myth that unfortunately surround it. To survived in the modern times, it must be expressed scientifically. The author, a computer software design, presents here a most scientific approach to this exalted discipline.
The Contentious Sixth House and Planetary Dispositions
Dr. K S Charak
Each house of a horoscopic chart has its own specific significance. Without it, the rest of the horoscope would remain incomplete. Dr. Charak deals with all aspects related to the sixth house in his amicable style.
Tajika and Lunar New Year Horoscopes
Ernst Wilhelm
A Lunar New Year Vedic horoscope is an adequate tool for predicting world events. In all effects, this is a transit chart, much like Varshaphala chart in the Tajika system. The author applies the Tajika Yogas along and Patyayini dasha to predict the events.
The Third Incarnation of Indian Prime Minister Vajpayee
Anshumalee Sood
In this article the principles of Muhurta, or electional astrology, are applied specific to oath taking in real time to the swearing in chart of the Prime Minister of India.
Indra, the Ruling Deity of Jyeshtha Nakshatra
Moral Propriety as the Greatest Virtue
Dr. K S Charak
The Mahabharata war had ended. The mighty Bhishma lay wounded on the battle field, pierced by arrows that lifted him off the ground. He was waiting for the Sun to attain its northerly course when he would leave his mortal body for the heavens...
Ayurveda as Life
Atreya Smith
Ayurveda, the ancient Indian system of healing and healthy existence, has been known as one of the most perfect scientific disciplines. The West has started accepting this system in a big way, sometimes in preference to the highly popular Allopathy. It is only a matter of time before this divine system gets its rightful status in India and the world.